Cara Matthew
Vue Weekly Issue #702
Maria Kotovych / maria@vueweekly.com
Categorizing music into a clearly defined genre isn't always easy. Yet, some decisions are more obvious than others—people wouldn't think of Aerosmith as jazz, for example. But this doesn't mean that creating a jazz version of Aerosmith's music is impossible.
Jazz and blues singer Cara Matthew did just that on her recently released album, Make You Feel My Love. Not only does this record include bluesy takes of Aerosmith's "Pink" and "What It Takes," it also takes songs by artists such as Elton John, Bob Dylan and Joni Mitchell and gives them a similar twist.
Matthew explains that taking this route allowed her to do something unique.
"I decided that instead of doing an album with standards that have been done before—people are still coming out with albums full of standards, of jazz standards—I thought I would do something different, and make standards out of classics—Elton John, Billy Joel," she says.
The songs on this album are ones that Matthew has always loved. Aerosmith, for instance, is one of her favourite bands. In addition to loving the group's lyrics, she also appreciates the music's very melodic nature. Having listened to these musicians for a long time, Matthew didn't have trouble jazzifying the group's tunes.
"I loved these songs so much growing up that I could feel them already, and they've always been brewing in me. So I didn't really find it that hard," she reflects, adding that all the musicians on the record had an opportunity to work out their own parts.
Anyone who has ever heard a remake knows that the ability to create a good one doesn't grace everyone who attempts it; for Matthew, the secret behind a good rendition is doing something completely different from the original.
"If you do something like Aretha Franklin does something, well, Aretha Franklin already did that. Why would you want to sing it that way again? You want to make it your own; you want to do your own thing."
__________
eVent Okanagan
Oct 18, 2009

__________
Canadian Musician
Showcase
by Doug Gallant
November/December 2008 Edition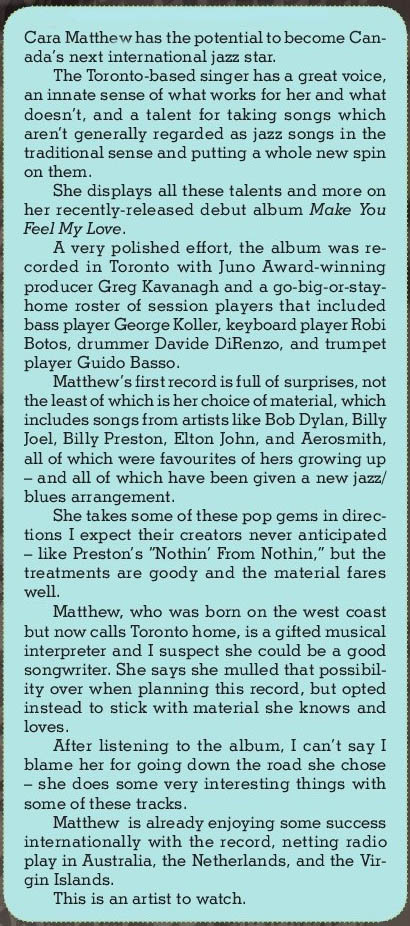 __________
ET Canada
Tuesday, June 24, 2008
__________
Local singer to release debut album
By Elisha Dacey
Thursday, May 22, 2008
(from the Daily Courier – see the high res scans: front page – article )

She may be a petite blonde package in blue jeans and beige jacket sitting in the boardroom at this newspaper's office, but on her album Cara Matthew packs a powerful presence.
"Soulful, bluesy," is how she describes her voice when asked. "It's unique, different."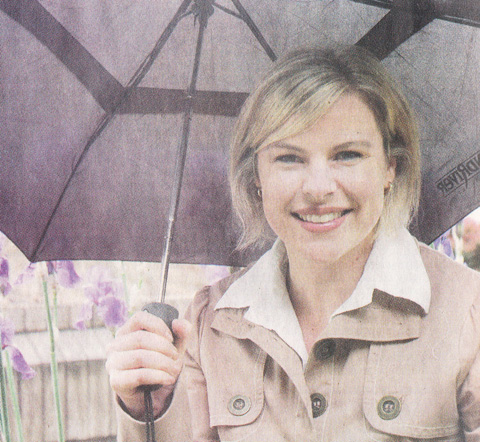 Matthew, 27, is in town tonight to release her debut album, Make You Feel My Love, at the Minstrel Cafe in Kelowna.
"When people look at me (perform), they'll see warmness, a depth, a passion.
"But mostly I just have fun."
Matthew was raised in Kelowna, attending Mount Boucherie Secondary School where she credits the choir teacher for instilling her love of jazz and blues into her.
"It started in high school in Grade 10 when I made the auditioned choir there," said Matthew. "The choir teacher . . . she introduced us to a wide variety of blues and jazz and other music."
After getting her arts degree at UBC, she packed up her life and her cat and drove across country to live in Toronto.
She said she knew she had to do it.
"It is something that has always been buring inside me. It's something I had to do."
Matthew said most of the people she knew were supportive. "Actually, people in the music business thought I was crazy," she said, describing a meeting with a musician in Toronto the first night she moved there.
"He said 'Are you crazy? What are you doing?" she laughed. "Friends and family, true friends and family, are supportive. They understand."
There she met Juno-award-winning producer Greg Kavanagh who produced her debut album.
"It's all me," she said about how much of the disc is her ideas. "But finding the right producer can definitely make or break a record.
"Greg was very supportive, he would say to me 'Check out this song … and he was absolutely right. But I made the final decisions."
The album, with 11 tracks, are all covers of tunes Matthew loved growing up.
"The first process was, do I want to write my own material, or do I want to sing what I love? At first I wanted to do my own, and I was doing some writing, but eventually I decided to sing what I love."
The result is tunes from greats such as Billy Joel, Elton John, Aerosmith and others done in a bluesy fashion all her own.
Matthew said she hasn't received any criticism for doing an album of covers. "People ask me if I write, but no one has said anything about doing it this way. I haven't received any criticism so far."
After tonight's CD release party, Matthew will tour across Canada in support of Make You Feel My Love. "I'll be doing that all on my own."
Tonight's show begins at 8 p.m. Tickets are $10 at the door and reservations are recommended.